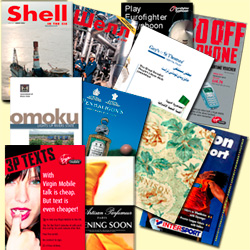 Not a lot you might think. But you'd be wrong – when it comes to design the two are as far apart as breakfast and dinner on a bad day.
The two serve quite different purposes and need to be treated as such if the resultant product is going to be anywhere near meeting its targets.
Wikipedia describes a catalogue (or catalog) as "an organized, detailed, descriptive list of items arranged systematically….. The word comes from the Hesiodic Catalogue of Women or Eoiae." And a brochure, rather less grandly as "a leaflet advertisement. Brochures may advertise locations, events, hotels, products, services, etc."
For normal human beings that translates to catalogues (usually) want to sell you one or more products from a whole list of goodies with prices while a brochure is more of a touchy-feely marketing tool – and if any smarty-pants asks why holiday "brochures" are called brochures and NOT catalogues I shall summon dark forces to make your tea go cold.
Does it matter?
In design terms it is massively important. Catalogue design, particularly if you're selling off the page is far more of a science than you might imagine.
For a catalogue to achieve its full potential, you'd be wasting your time without an understanding of square inch analysis and product density; knowing where the important "hot spots" are; understanding how to change the pace at which a reader is scanning the catalogue with "stoppers"; how to use "heroes", and so on and so on.
A brochure is less scientific but no less important for all that. Without the need to achieve specific performance (in terms of sales) from a given area or number of pages, a brochure provides more scope to explore other areas of creativity.
Having said all that the most important consideration for a designer is understanding the difference in such a way that they can produce the best possible designs for any given application.