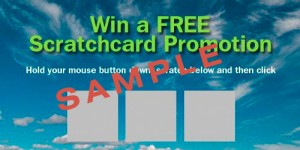 The problem: increasing productivity without spending a fortune or upsetting the status quo.
One solution: an online scratchcard promotion
We've developed an online promotional scratchcard system that fits the criteria to a "T". Scratchcards can be delivered via e-mail or a web page link and have the same promotional benefits and user enjoyment as a printed one yet cost significantly less (and are less messy!).
The game can be completely personalised and branded so they make an ideal way to broadcast internal messages.
People do like a scratchcard – it's to do with the interactivity – and the chance of winning something. So, using an online scratchcard promotion to motivate your staff increases the likelihood of a successful result.
You can try our promotion for nothing to see how it works – the main prize is a free promotion so you could end up getting yours for nothing. Give it a go>>
For more information on how it works >>
A few ideas for using them:
Incentivise your sales force
Say "Thank you" to your employees
Transmit corporate messages in an entertaining and involving way
Motivate employees to become stakeholders