Having produced a conventional scratchcard promotion for Carte Blanche during 2010 they contacted us again in late Summer, 2011, having been badly let down by a Chinese supplier.
At short notice they needed 90,000 tags to accompany their Tatty Puppy range. Each tag to have an individual number which the buyer could register on the web site for extra goodies. The main issue was going to be delivery – shipping to China is never a quick option.
Normal production time for scratchcards is around two weeks but we managed to twist a few arms and despatch them within 7 days – narrowly meeting the target date so the tags could be applied to the Tatty Puppies and be sent back to the UK in time for Christmas.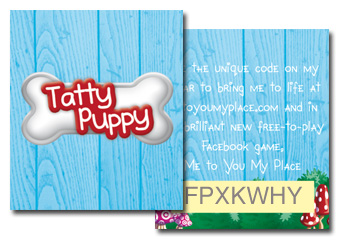 A further 30,000 were produced and despatched to China a month later for the follow-up production run.
Update: And another 19,ooo in November. With yet more in January 2012 – another 12,000.