Carpet Cleaning Calculators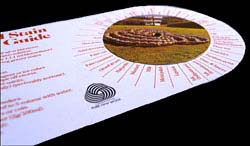 Brief
Produce a give-away for carpet and furniture shops to promote the benefits of pure new wool and encourage its use.
Solution
Carpet and Upholstery Cleaning "Calculators".
These were constructed so that aligning a revolving disc in the centre with the relevant stain provided 3 levels of cleaning.
Format
Size: 200 x 100mm - 100,000 copies (across 7 years)
Printed: sheet-fed litho, gloss laminated, die-cut to shape and then joined together with brass eyelets.